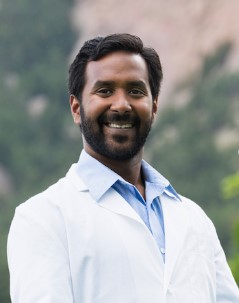 Dr. Azhar Ahmed is a General Dentist in the state of Colorado. Born in Dubai and raised in India, Dr. Ahmed completed his Bachelor's in Dental Surgery in 2010. He immigrated to the United States and graduated from a Master's program in Healthcare Administration in 2014 from the California State University, Hayward. In 2017, Dr. Ahmed received his DDS from the University of Southern California in Los Angeles.

Having lived and practiced in and around Lubbock, Texas for 4 years, Dr. Ahmed and his wife moved to Colorado and are enjoying the natural beauty of Boulder. Dr. Ahmed has completed a year-long continuum in Implant Dentistry from the American Academy of Implant Dentistry in pursuit of a Fellowship with the organization. He enjoys all aspects of Surgical and Restorative Dentistry and is focussed on providing a gentle, collaborative, evidence-based approach to his patients' needs and wants.

Dr. Ahmed is an avid tennis player and enthusiastically participaties in Boulder Tennis Association events and competitions. In his free time, he enjoys exploring the outdoors, traveling, and listening to podcasts.