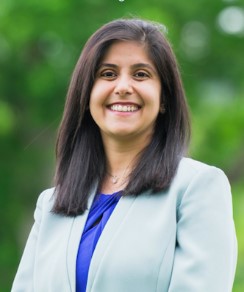 Dr. Kanchan Sawlani is a licensed general dentist in Colorado. Born and raised in New Delhi, India, she earned a Bachelor's degree in dentistry from India before immigrating to the United States in 2012 for advanced education. She completed a Master's degree in Dental Biomaterials from University of Alabama at Birmingham in 2014, followed by a DDS degree from University of Southern California, Los Angeles in 2017. She met her husband Dr. Azhar Ahmed in dental school and moved to Lubbock, Texas where they practiced for four years. They relocated to Boulder, Colorado in 2022 to enjoy the great outdoors and be a part of the welcoming community of fellow adventurists here.
Dr. Sawlani believes in comfortable, conservative and comprehensive dental care based on her patients' individual needs. She practices a full scope of general and cosmetic dentistry with a focus on prevention. She is an active member of the American Dental Association (ADA), Colorado Dental Association (CDA) and Metro Denver Dental Society (MDDS) and avidly engages in continuing education courses. An Affiliate Associate Fellow of the American Association of Implant Dentistry (AAID), she is committed to constantly learning the new advances in dental materials and techniques in order to provide clinical excellence to her patients.
Dr. Sawlani has a multi-faceted dental research background: from oral cancer research to in vitro testing of dental materials to the influence of biting forces (grinding) on teeth. She has published her research in the Journal of Dentistry and Journal of Prosthetic Dentistry. She has also presented her research at conferences of the International Association for Dental Research (IADR) and American Association of Dental Research (AADR).

Outside of work, Dr. Sawlani enjoys hiking, yoga, poetry, theatre, music and crafting.